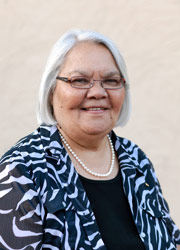 Deputy to the Administrator NT
Service Administrator CAHS

Dr Patricia Miller was appointed to the Centre for Remote Health Board in 2008.

Patricia was born and raised in Alice Springs in a prominent local family, growing up on a cattle station until the age of 12 years. She is the former CEO of the Central Australian Aboriginal Legal Aid Service, commencing as a filing clerk, and rising to the position of CEO, holding the position for 35 years until 2015. The Service provides legal aid for Centralian Aboriginal people.
In 2002, Dr Miller was appointed Deputy to the Administrator. In this role she carries out a range of ceremonial duties on behalf of the Administrator in Central Australia. Dr Miller has made a significant contribution to Central Australia as member of a variety of committees, including Women's Committee House, Central Australian Aboriginal Childcare Agency, Central Australian Aboriginal Media Association, Red Cross Alice Springs, and Chair of Imparja Television Board. She has also been involved in several sporting associations.
Awards
Naidoc Aboriginal Centralian of the Year 1995
Naidoc Aboriginal recognition 1997 - 30 years since the referendum 1967 for work in the Community
2004 Queens Birthday Honours - Officer of the Order of Australia AO
NT Australian of the Year in 2004
Paul Harris International Rotary Fellowship for service to the Community 2005
Hon. Doctorate Doctor of Letters - Charles Darwin University 2006 (Honoris Causa )
Hon. Doctorate - Flinders University SA 2012 ( Honoris Causa)
Australian Womens Leadership NT 2016.